What To Text A Guy You Just Met
So you have just exchanged digits with a really cool (and nice-looking) guy, and here you are, staring blankly at the screen of your phone, wishing frantically that the next beep would be a message from him. No beep, no message, no nothing. You panic, launching into an internal debate with yourself. Surely, it is not so much of a deal if the first text came from you, right? The independent, confident woman within you tells you that there is nothing wrong with making the first move. So you whip out your phone, and try to compose your message to no avail. What exactly do you text a guy you just met?
Use polite, but casual language
Remember, you have just met the guy; you do not know much about him, so do not assume that he likes the same things you like. Start the conversation with messages like "Hi! I'm eating the cupcake I got from the bakery where I bumped into you earlier. Have you tried the ones you got?" As you can see, the language used is casual but polite. What makes it more effective than your regular "What's up?" is that your text message transports the guy to the experience of having met you for the first time. Also, notice that the sample text message leaves a question at the very end. This will prompt the guy to answer, which will then get the ball rolling and your conversation, continuing.

Do not go overboard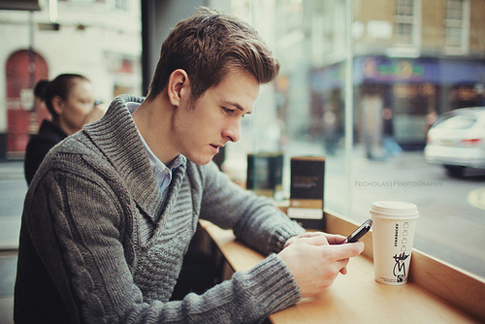 If he has replied, try to keep your excitement at bay by not replying several messages in rapid succession. This will make you appear like you are a miserable eager beaver, and this is a known turn-off to guys. Instead, keep to simple, but creative and witty replies and patiently wait for his reply. If he appears to be busy, respect it and do not insist that he reply. The worst kinds of text messages are those that say "I know you are busy, but can't you just reply? It's been 15 minutes since my last text". Not only do these messages make you look desperate, you also actually disturb the other person from whatever it is that he is doing.
Read: How To Make A Guy Fall In Love With You
Leave him hanging and waiting for more
Play hard to get, even in your text messages. This means you should strive to be the first one to end the string of messages, but do so graciously, and always with an invitation for him to text you again. "I have to go prepare my things for a camping trip, but you can/should text me anytime this afternoon ;)" is one example of a playful way to end the conversation. Also, notice that the goodbye message contains more than you normal "K bye" message. It tells him exactly what you are off to do. This is deliberate, because this will invite him to ask about it on his next message. Also, it tells him that you have a life, and that you are doing exciting things with it. Certainly, no guy would want to hear that you spent the whole day cooped up in your room, waiting for his every text message. Instead, give him a small overview of the life that you lead, and maybe next time, you can subtly issue an invitation for him to be in it.